Automatic tunnel demagnetizer Type DTA
Heavy duty construction
Innovative
Safe
Effective
. Coil sealed in a high performance epoxy (black)
. Reinforced system
. Aluminium chassis
. Smooth system for transporting pieces
. ON/OFF switch with pilot lamp
. Thermic protection
. Electric box
It is necessary that the workpiece be moved through the alternative field at a slow and constant speed (recommended 0,2 m/sec.). At the end of the operation, the part must be moved away as far as possible from the unit (40 cm to 60 cm), in order to avoid incomplete demagnetization.
Other system to carry pieces
Specific machine
Automat and sensor for special application
Decreasing frequency machine to demagnetize hard pieces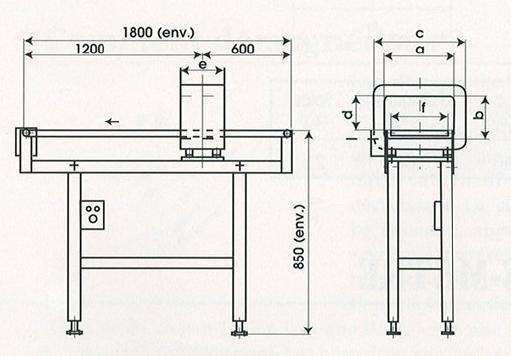 | Qty | Product | Weight in kg | A | B | C | D | E | F | G | H | I |
| --- | --- | --- | --- | --- | --- | --- | --- | --- | --- | --- | --- |
| | 16.05.T1.G25.1300 | - | 1300 | - | - | - | - | - | - | - | - |
| | 16.05.T1.G25.1500 | - | 1500 | - | - | - | - | - | - | - | - |
| | 16.05.T1.G25.2000 | - | 2000 | - | - | - | - | - | - | - | - |
| | 16.05.T2.G25.1300 | - | 1300 | 370 | 200 | 730 | 100 | 1240 | 200 | 170 | 760 |
| | 16.05.T2.G25.1500 | - | 1500 | 430 | 200 | 870 | 1000 | 1240 | 200 | 170 | 760 |
| | 16.05.T2.G25.2000 | - | 2000 | 600 | 200 | 1200 | 1000 | 1240 | 200 | 170 | 760 |
| | 16.05.T4.G25.1800 | - | 1800 | 550 | 170 | 1080 | 1000 | 1390 | 350 | 410 | 690 |
| | 16.05.T4.G25.2000 | - | 2000 | 610 | 170 | 1220 | 1000 | 1390 | 350 | 410 | 690 |
| | 16.05.T4.G25.2300 | - | 2300 | 710 | 170 | 1420 | 1000 | 1390 | 350 | 380 | 690 |
| | 16.05.T4.G60.1800 | - | 1800 | 550 | 170 | 1080 | 1030 | 1390 | 350 | 380 | 690 |
| | 16.05.T4.G60.2000 | - | 2000 | 610 | 170 | 1220 | 1030 | 1390 | 350 | 380 | 690 |
| | 16.05.T4.G60.2300 | - | 2300 | 710 | 170 | 1420 | 1030 | 1390 | 350 | 380 | 690 |
| | 16.05.T5.G25.1800 | - | 1800 | 550 | 160 | 1090 | 1000 | 1380 | 500 | 300 | 1000 |
| | 16.05.T5.G25.2000 | - | 2000 | 610 | 160 | 1230 | 1000 | 1380 | 500 | 300 | 1000 |
| | 16.05.T5.G25.2300 | - | 2300 | 710 | 160 | 1430 | 1000 | 1380 | 500 | 300 | 1000 |
| | 16.05.T5.G60.1800 | - | 1800 | 550 | 160 | 1090 | 1030 | 1380 | 500 | 270 | 1000 |
| | 16.05.T5.G60.2000 | - | 2000 | 610 | 160 | 1230 | 1030 | 1380 | 500 | 270 | 1000 |
| | 16.05.T5.G60.2300 | - | 2300 | 710 | 160 | 1430 | 1030 | 1380 | 500 | 270 | 1000 |
indication_tableau_dessus
indication_tableau_dessous