Auxiliary Top Plate type PP/MR for Magnetic Circular Chuck type ERCA
. To use with circular magnetic chucks type ERCA/ERCN
. Welded construction with epoxy resin
. Laminated blocks transmit the magnetic field of the chuck towards the workpiece. They can be used with any magnetic clamping system that has a parallel pole pitch. They can simply be placed loose on the magnetic chuck surface (respecting radial pole layout) or can be mechanically fitted to the chuck.
. Able to withstand harsh applications because no glue or rods have been used to fix the laminations together.
- Other sizes available on request
- Other pole pitch execution
- Special machinings
- Fitting systems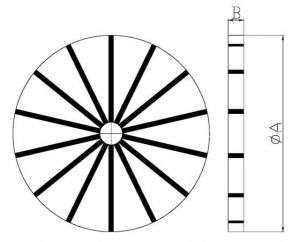 | Qty | Product | Weight in kg | A | B |
| --- | --- | --- | --- | --- |
| | 14.05.150.ERCA | 1,0 | 150 | 20 |
| | 14.05.180.ERCA | 2,0 | 180 | 20 |
| | 14.05.200.ERCA | 3,0 | 200 | 20 |
| | 14.05.250.ERCA | 4,0 | 250 | 20 |
| | 14.05.300.ERCA | 5,0 | 300 | 20 |
| | 14.05.350.ERCA | 6,0 | 350 | 20 |
| | 14.05.400.ERCA | 7,0 | 400 | 20 |
| | 14.05.450.ERCA | 8,0 | 450 | 20 |
| | 14.05.500.ERCA | 10,0 | 500 | 20 |
| | 14.05.130.ERCN | 2,0 | 130 | 20 |
| | 14.05.150.ERCN | 3,0 | 150 | 20 |
| | 14.05.200.ERCN | 4,0 | 200 | 20 |
| | 14.05.250.ERCN | 5,0 | 250 | 20 |
| | 14.05.300.ERCN | 7,0 | 300 | 20 |
| | 14.05.350.ERCN | 10,0 | 350 | 20 |
| | 14.05.400.ERCN | 15,0 | 400 | 20 |
| | 14.05.500.ERCN | 10,0 | 500 | 20 |
| | 14.05.600.ERCN | 25,0 | 600 | 20 |
indication_tableau_dessus
indication_tableau_dessous