Cylindrical permanent magnet - samarium type AS 01
Samarium Cobalt magnets are sintered magnets made of samarium and cobalt samarium powder and cobalt. Samarium Cobalt magnets have a very high magnetic energy. They are brittle ceramics and should not be and should not be used in the presence of chlorine and hydrogen.

The maximum holding power is achieved when the magnet is in contact with a clean steel, clean and sufficiently thick. It decreases for alloyed steels (cast iron -30%), because of an air gap or because of a significant temperature rise (-0.04% per degree C).
Samarium magnets cannot be machined, they cannot be cut or drilled.
The assembly is done by gluing.
Magnet according to thickness
Use :

High Tp° system
Prosthesis medical
Max. temperature of use :

Density :

Max. surface induction :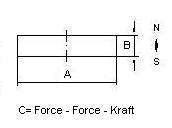 Qty
Product
Weight in kg
A
B
C
120.01-4x2
0.0002
4
2
2N
120.01-4x3
0.0003
400
3
2.5N
120.01-5x3
0.0005
5
3
3.5N
120.01-6x3
0.0007
6
3
4N
120.01-6.5x1.5
0.0004
6.5
1.5
2N
120.01-7x3
0.0009
7
3
5N
120.01-8x2
0.0007
8
2
4N
120.01-8x4
0.0014
8
4
8N
120.01-9x5
0.003
9
5
12N
120.01-10x3
0.002
10
3
10N
120.01-10x5
0.005
10
5
15N
120.01-12x3
0.003
12
3
11N
120.01-12x5
0.006
12
5
17N
120.01-14x3
0.004
14
3
14N
120.01-15x3.5
0.0053
15
3.5
19N
120.01-16x5
0.008
16
5
25N
120.01-16x10
0.018
16
10
40N
120.01-18x4
0.009
18
4
25N
120.01-20x5
0.012
20
5
29N
120.01-20x10
0.024
20
10
33N
120.01-24x4
0.015
24
4
36N
120.01-25x5
0.017
25
5
40N
120.01-34x5
0.018
34
5
46N
120.01-35x5
0.019
35
5
47N
120.01-40x10
0.040
40
10
75N
indication_tableau_dessus
indication_tableau_dessous