Laminated Blocks type LB
Silver brazed top plate
Heavy duty construction
. Made of silver brazed steel and brass laminations
. Laminated blocks transmit the magnetic field of the chuck towards the workpiece. They can be used with any magnetic clamping system that has a parallel pole pitch. They can simply be placed loose on the magnetic chuck surface (respecting laminations direction) or can be mechanically fitted to the chuck.
. Able to withstand harsh applications because no glue or rods have been used to fix the laminations together.
Use :

Grinding
EDM
Milling
metrology
Drilling
Machining
- Other sizes available on request
- Other pole pitch execution
- Delivered in pairs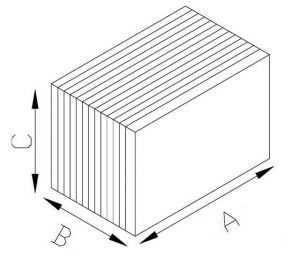 Qty
Product
Weight in kg
A
B
C
D
14.01.757525B
1,2
75
75
25
3 + 1
14.01.1007525B
1,5
100
75
25
3 + 1
14.01.10010025B
1,9
100
100
25
3 + 1
14.01.6507525B
19,6
650
75
25
3 + 1
14.01.805040B
2,6
80
50
40
3 + 1,5
14.01.1005040B
3,2
100
50
40
3 + 1,5
14.01.1554540B
4,6
155
45
40
3 + 1,5
indication_tableau_dessus
indication_tableau_dessous