MAGNETIC ROLLER TYPE GMM
Heavy duty construction
Low sensiblility to airgap
. Multipolar magnetization, in NdFeB,
. drilling with H7 adjustment tolerance.
. Optimally used for thin sheets (≤2mm).
. The adhesion forces were defined at ambient temperature on the polished steel plate (S235JR according to DIN 10 025) with a thickness of 10 mm during the vertical withdrawal of the magnet.
Max. temperature of use :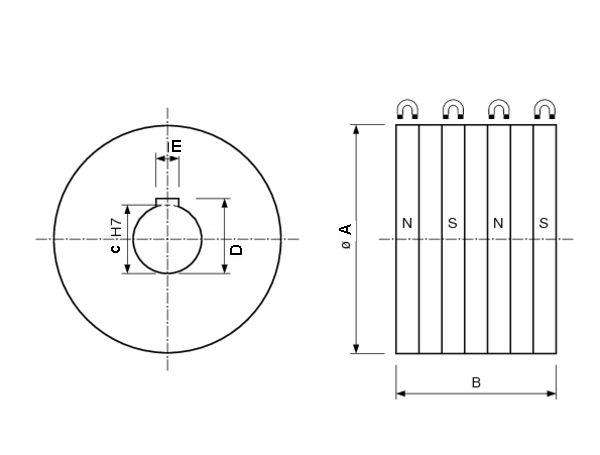 | Qty | Product | A | B | C | D | E | F |
| --- | --- | --- | --- | --- | --- | --- | --- |
| | 17.25.25 | 25 | 16 | 8 | 8,6 | 3 | 45N |
| | 17.25.32 | 32 | 18 | 10 | 11,1 | 4 | 65N |
| | 17.25.40 | 40 | 20 | 12 | 13,1 | 4 | 90N |
| | 17.25.50 | 50 | 25 | 16 | 17,3 | 5 | 140N |
| | 17.25.63 | 63 | 32 | 20 | 21,7 | 6 | 270N |
| | 17.25.80 | 80 | 40 | 25 | 26,7 | 8 | 380N |
| | 17.25.100 | 100 | 50 | 30 | 31,7 | 8 | 580N |
| | 17.25.125 | 125 | 62 | 40 | 42,1 | 12 | 1000N |
| | 17.25.160 | 160 | 80 | 50 | 52,6 | 14 | 1800N |
indication_tableau_dessus
indication_tableau_dessous