Permanent cylindrical magnet - ferrite type AF
Isotropic or anisotropic ferrite magnets are brown stainless ceramics,
obtained by the powder metallurgy process: pressing and sintering.

Ferrite is a hard but shock-sensitive material. The load-bearing capacity is optimal when the magnet is in contact with a clean, sufficiently thick, soft steel part.

It decreases for alloyed steels (cast iron -30%), because of an air gap or because of a temperature rise (-0.4% per degree from 20°C).
Ferrite magnets cannot be machined, cut or drilled.
They are mounted by gluing.

Multipole magnet 1 side
Max. temperature of use :

Density :

Resistance in compression :

Max. surface induction :
All dimensions on reqest.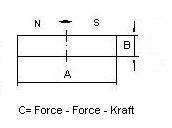 | Qty | Product | Weight in kg | A | B | C |
| --- | --- | --- | --- | --- | --- |
| | 100.01MP-8x5 | 0.0014 | 8 | 5 | 0.6N |
| | 100.01MP-12x4 | 0.002 | 12 | 4 | 1N |
| | 100.01MP-14x5 | 0.0035 | 14 | 5 | 1.3N |
| | 100.01MP-20x5 | 0.007 | 20 | 5 | 4N |
| | 100.01MP-25x5 | 0.011 | 25 | 5 | 5N |
| | 100.01MP-30x5 | 0.017 | 30 | 5 | 8N |
| | 100.01MP-8x4 | - | 8 | 4 | - |
| | 100.01MP-10x4 | - | 10 | 4 | - |
| | 100.01MP-14x3 | - | 14 | 3 | - |
| | 100.01MP-15x6 | - | 15 | 6 | - |
| | 100.01MP-20x3 | - | 20 | 3 | - |
| | 100.01MP-25x3 | - | 25 | 3 | - |
| | 100.01MP-30x3 | - | 30 | 3 | - |
indication_tableau_dessus
indication_tableau_dessous