Permanent ferrite magnet ring type AF 03
Isotropic or anisotropic ferrite magnets are rust resistant ceramics and have a dark brown color, obtained through a metallurgic procedure of pressing and sintering powders. Ferrite is a hard material but sensitive to shocks and its strength is highest when the magnet is in contact with a mild steel, that is clean and thick enough. The strength is reduced when in contact with Alloy steels (cast Iron -30%), due to air-gap or a high temperature (-0.4% per degree starting at 20°C). Ferrite magnets are not machinable, they can not be cut or drilled. The mounting is done with glue. Magnetized depending on thickness.
Max. temperature of use :

Density :

Resistance in compression :

Max. surface induction :
All dimensions available on demande.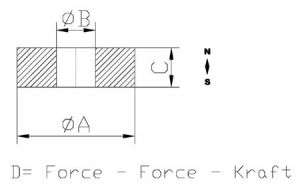 | Qty | Product | Weight in kg | A | B | C | D |
| --- | --- | --- | --- | --- | --- | --- |
| | 80.03-10x6x5 | 0.0012 | 10 | 6 | 5 | 2N |
| | 80.03-12x3.8x3.5 | 0.002 | 12 | 3.8 | 3.5 | 2.5N |
| | 80.03-13x4x3 | 0.0018 | 13 | 4 | 3 | 2.5N |
| | 80.03-15x9x5 | 0.0027 | 15 | 9 | 5 | 3N |
| | - | - | - | - | - | - |
| | 80.03-24x11x8 | 0.014 | 24 | 11 | 8 | 5N |
| | 80.03-25x11x11 | 0.025 | 25 | 11 | 11 | 6N |
| | 80.03-26x10x10 | 0.021 | 26 | 10 | 10 | 6N |
| | 80.03-36x18x6 | 0.030 | 36 | 18 | 6 | 15N |
| | 80.03-36x18x8 | 0.045 | 36 | 18 | 8 | 19N |
| | 80.03-40x19x7.5 | 0.035 | 40 | 19 | 7.5 | 28N |
| | 80.03-40x22x6 | 0.036 | 40 | 22 | 6 | 26N |
| | 80.03-45x22x6 | 0.042 | 45 | 22 | 6 | 27N |
| | 80.03-45x22x8.5 | 0.051 | 45 | 22 | 8.5 | 28N |
| | 80.03-45x22x9 | 0.057 | 45 | 22 | 9 | 28N |
| | 80.03-51x24x9 | 0.072 | 51 | 24 | 9 | 30N |
| | 80.03-55x24x12 | 0.125 | 55 | 24 | 12 | 35N |
| | 80.03-56x25x10 | 0.095 | 56 | 25 | 10 | 33N |
| | 80.03-60x24.3x9 | 0.105 | 60 | 24.3 | 9 | 31N |
| | 80.03-69.8x14.8x15 | 0.265 | 69.8 | 14.8 | 15 | 75N |
| | 80.03-72x32x10 | 0.200 | 72 | 32 | 10 | 40N |
| | 80.03-72x32x12 | 0.215 | 72 | 32 | 12 | 45N |
| | 80.03-72x32x18 | 0.325 | 72 | 32 | 18 | 90N |
| | 80.03-102x51x14 | 0.350 | 102 | 51 | 14 | 125N |
| | 80.03-102x57x12 | 0.300 | 102 | 57 | 12 | 90N |
| | 80.03-134x57x14 | 0.775 | 134 | 57 | 14 | 120N |
| | 80.03-134x57x20 | 1.107 | 134 | 57 | 20 | 140N |
| | 80.03-156x57x17.5 | 1.39 | 156 | 57 | 17.5 | 160N |
| | 80.03-220x110x25.4 | 3.4 | 220 | 110 | 25.4 | 195N |
indication_tableau_dessus
indication_tableau_dessous