Rectangular permanent magnet - neodyme type AN 02
Neodymium-iron-boron magnets are sintered magnets made of Neodymium, iron and boron powder. A surface treatment is essential to protect surface treatment is necessary to protect against corrosion (Zinc-Nickel-Gold-Epoxy).

Neodymium Iron Boron have a very high magnetic energy and a very high resistance to demagnetisation. They are brittle ceramics. The carrying capacity is optimal when the magnet is in contact with a clean, soft steel, clean and sufficiently thick. It decreases for alloyed steels (cast iron -30%), because of an air gap or because of a temperature rise (-0.11% per degree C).
Neodymium magnets cannot be machined, they cannot be cut or drilled.
The assembly is done by gluing.
Magnet according to thickness
Use :

Relay
Sensor
Lock
Clamping
Step by step motor
Max. temperature of use :

Density :

Max. surface induction :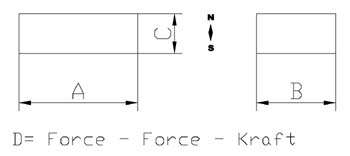 | Qty | Product | Weight in kg | A | B | C | D |
| --- | --- | --- | --- | --- | --- | --- |
| | 110.02-5x1.5x1 | 0.00006 | 5 | 1.5 | 1 | 1.4N |
| | 110.02-5x2.5x2 | 0.0002 | 5 | 2.5 | 2 | 4.5N |
| | 110.02-5x4x2 | 0.0003 | 5 | 4 | 2 | 5.5N |
| | 110.02-5x5x2 | 0.0004 | 5 | 5 | 2 | 6.5N |
| | 110.02-6x4x2 | 0.0004 | 6 | 4 | 2 | 8N |
| | 110.02-7x6x1.2 | 0.0004 | 7 | 6 | 1.2 | 6N |
| | 110.02-7.5x4x1.5 | 0.0004 | 7.5 | 4 | 1.5 | 5N |
| | 110.02-8x4x3 | 0.0008 | 8 | 4 | 3 | 9N |
| | 110.02-10x4x1 | 0.0003 | 10 | 4 | 1 | 5.8N |
| | 110.02-10x5x1 | 0.0005 | 10 | 5 | 1 | 6.5N |
| | 110.02-10x5x2 | 0.0008 | 10 | 5 | 2 | 13N |
| | 110.02-10x7x3 | 0.0016 | 10 | 7 | 3 | 18N |
| | 110.02-10x10x3 | 0.0023 | 10 | 10 | 3 | 20N |
| | 110.02-12x12x2 | 0.0022 | 12 | 12 | 2 | 18N |
| | 110.02-15x3x1.2 | 0.0004 | 15 | 3 | 1.2 | 10N |
| | 110.02-15x10.5x3 | 0.0034 | 15 | 10.5 | 3 | 25N |
| | 110.02-16x12.5x2.5 | 0.004 | 16 | 12.5 | 2.5 | 24N |
| | 110.02-18x16.5x4 | 0.009 | 18 | 16.5 | 4 | 50N |
| | 110.02-20x10x5 | 0.008 | 20 | 10 | 5 | 50N |
| | 110.02-20x20x5 | 0.016 | 20 | 20 | 5 | 35N |
| | 110.02-25x10x2 | 0.0038 | 25 | 10 | 2 | 17N |
| | 110.02-26x20.3x5 | 0.002 | 26 | 20.3 | 5 | 77N |
| | 110.02-30x9x2 | 0.004 | 30 | 9 | 2 | 18N |
| | 110.02-33x26x6.5 | 0.040 | 33 | 26 | 6.5 | 125N |
| | 110.02-35x14x7 | 0.026 | 35 | 14 | 7 | 110N |
| | 110.02-40x20x5 | 0.030 | 40 | 20 | 5 | 120N |
| | 110.02-40x20x10 | 0.057 | 40 | 20 | 10 | 210N |
| | 110.02-50x16x5 | 0.030 | 50 | 16 | 5 | 132N |
| | 110.02-50x50x8 | 0.140 | 50 | 50 | 8 | 360N |
| | 110.02-100x100x20 | 1.5 | 100 | 100 | 20 | / |
indication_tableau_dessus
indication_tableau_dessous